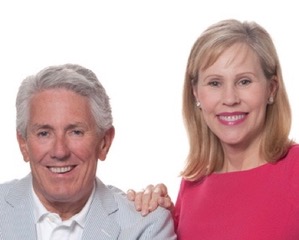 Buy or Sell Properties
with Lisa & Stratton Cyrus
Cyrus Properties is owned by Lisa and Stratton Cyrus, It is a small independent real estate brokerage firm working in Austin, Texas. All of our representation is confidential. Our goal is to provide you with exceptional service that far exceeds your expectations. We respect your privacy and exercise discretion in all aspects of your transaction. Give us a try, we are sure you will be delighted.
Lisa was born & raised in South Georgia. After college, she moved to Austin in 1977 to begin an entrepreneurial career in the specialty food industry establishing Jardine Foods. Through hard work and determination this business flourished and before it was sold to investors in 1996, the company was selling its many products worldwide.
After the sale of the business, Lisa embarked on a consulting career in the specialty food business. After about 4 years it was time to pivot again and her career in real estate began. A lot of the same skills, which helped her succeed in her former business, were a perfect fit for the one-on-one nature of the real estate transaction. While Lisa loves to talk and has gregarious personality, she is also a good listener, a very necessary trait when understanding what your clients needs & goals are.
We feel sure that you will love to meet & work with Lisa. 
Stratton is a native Texan, From Fort Worth & north Texas, he came to Austin in the 70's for several years, then came back to stay in 1984. His path to the real business was highlighted by many years, in the consumer products business creating an array of products and business ventures along the way.
The one constant is every one of these endeavors was focusing on the customer & client. Being a good listener & good communicator has produced successful results for almost all of these ventures.
Lisa & Stratton combine their skills, experience & knowledge to work together on every deal we do. As our client you automatically get the 2 for 1 deal.